Julius von Sachs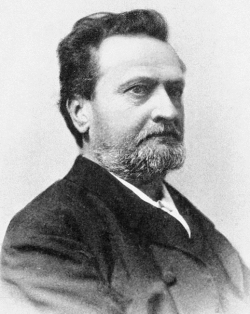 Born

2 October 1832

Died

29 May 1897 (age 64)
Many claim that it is extremely rare to find an area of botany that Julius von Sachs didn't influence in one way or another. His works are numerous, varied, and spread far and wide within this field of science. An early interest in natural history soon morphed into a fascination with plants; how they germinate, how they vary, how they grow and live.
---
Being born into a poor family as one of nine children and receiving very bad quality schooling meant that the odds were against him, even though he was regularly top of his class. At a young age both of his parents died, meaning he was forced to leave school because he wasn't able to support himself. However, he was lucky enough to meet the physiologist Jan Evangelista Purkyne, who took him to Prague and gave him work. Here he was able to finish his secondary education.
He began his further studies in 1851 at Charles University, Prague. He graduated with his Ph.D. and afterwards took a position at the university teaching plant physiology. This was just one of many universities throughout Europe that Sachs ended up teaching at, and plant physiology was the subject area in which he really gained distinction.
Much of his early work was featured in many esteemed journals and publications; so large in number that a collection of all of them was made shortly after his death. Amongst this collection is a series of papers that formed the foundation of our knowledge on the science of germination. They explain in detail the physiological, microchemical and morphological processes that plants undergo when germinating.
During the rest of his life his research took on even more prominence as he wrote enough studies to fill an entire three volumes of books, which were published between the years 1871 and 1888. In amongst all his wonderful papers were his ground-breaking works on the arrangement of cells in different growth points of the plant, assimilatory activity in the green leaf, and the application of the water-culture method in relation to nutrition.
What stood Sachs apart from many botanists is that much of his work was original and contained exquisite amounts of detail. He was also an avid and enthusiastic teacher, whose enticing and thrilling personality engaged and inspired many student and hopeful biologist. Many of his pupils went on to become successful and well-known botanists themselves, which is largely down to his influence. The huge amount of respect that he gained from his peers as well as his students was apparent, especially because in 1897 his former assistant, Professor Goebel, gave a full account of his life and work which was translated into English a year later.
Due to his prominence and exceptional aptitude for science, Sachs was called to be director of the Polytechnic at Chemnitz and was nominated as professor of botany at the University of Freiburg, in between many other positions at universities throughout Germany. He finally settled as the Chair of Botany at the University of Wurzburg, where he stayed until his death.