Sir Hans Sloane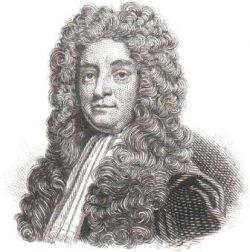 Born

16 April 1660

Died

11 January 1753 (age 92)
Sir Hans Sloane was a physician and botanist whose personal collections led to the establishment of the British Museum (and later the Natural History Museum). He also promoted inoculation against small pox and the use of quinine for malaria.
---
Sloane was born in Killyleagh, County Down and moved to London to study medicine and botany in 1679. He spent some time at the Chelsea Physic Garden, learning to prepare and use chemicals from plants. He also spent a year in Paris where he attended lectures on botany and anatomy. On his return to London in 1684, he became friends with a number of intellectuals including John Ray and Samuel Pepys.
 At the age of 27, while he was working as a doctor, he was invited on a journey to Jamaica by the Duke of Albemarle, the Governor of Jamaica, to be his personal physician. While there, Sloane took notes on everything he saw and he collected many animals and plants, including the fruit of the cocoa tree. Sloane thought this tasted horrible but was improved by adding milk. He brought the recipe back to England and this later became the basis for drinking chocolate.
He came returned to England in 1688, after the Duke's death. As well as the recipe for drinking chocolate, he brought with him more than 800 specimens of plants and other specimens of living animals.
He set up a medical practice in Bloomsbury and became physician to the wealthy, including Queen Anne and Samuel Pepys, but he also spent time treading the poor for free. 
At the time, many people died from smallpox, and those who survived it (including Sloane) were often left scarred. Sloane promoted inoculation against small pox, by testing the method out on six condemned prisoners, and then a number of orphaned children. They survived, and the method was later developed by Edward Jenner.
Sloane was elected to the Royal Society in 1685 and later became its president in 1727. He was knighted in 1716, became President of the Royal College of Physicians in 1719 and became Physician General to the Army in 1722.
As well as his medical practice, Sloane continued his collecting with a passion, having to buy an extra house to accommodate all his specimens.  In 1722, he bought the Manor of Chelsea and leased four aces of land to the Chelsea Physic Garden for £5 a year in perpetuity, on the condition that they sent 50 specimens to the Royal Society every year.
'[my curios]...may remain together and not be separated and that chiefly in and about the city of London, where I have acquired most of my estates and where they may by the great confluence of people be most used'.
By the time Sloane died, aged 92, he had more than 71,000 specimens of plants, animals and antiquities, and a library of 50,000 books. In his will, he asked that the King and Parliament should buy his collection for £20,000 (although it was worth more). The money was raised by the British Museum Act in 1753 and his collection became the foundation of the British Museum and later the Natural History Museum.