Sir William Jackson Hooker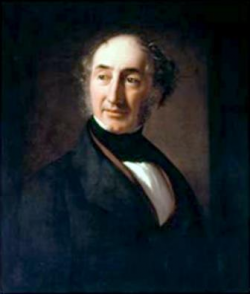 Born

6 July 1785

Died

12 August 1865 (age 80)
Sir William Hooker had a flair for drawing and from an early age was interested in ornithology, entomology and botany, In 1806 he was elected a Fellow of the Linnean Society and during this period he met other naturalists such as Robert Brown, and Sir Joseph Banks. By the age of 20, William had discovered the moss Buxbaumia aphylla, which was identified as a new species by fellow naturalist and his future father-in-law Dawson Turner.
---
Sir William's first botanical expedition was to Iceland in 1809. His notes, drawings and specimens were destroyed by fire on the return voyage. However, because of his excellent artistic capabilities and memory, he was still able to publish his account of the island, its flora and inhabitants. He also went on botanical excursions in France, Switzerland and Northern Italy.
In 1815 he married Maria Turner and settled in Halesworth in Suffolk, where he began to form his world-famous herbarium. In 1816, he collaborated with Dawson Turner on the production of Historia Fucorum and the illustrated British Jungermanniae which was also published that year.
In 1817 Sir William began to work with Glasgow botanist and lithographer Thomas Hopkirk to establish the Royal Botanic Institution of Glasgow. He became Regius Professor of Botany at the University of Glasgow in 1820. He was a popular lecturer, and his teaching and publishing continued until 1841. His son, Joseph, was often seen accompanying him to lectures from the early age of six.
While still lecturing, he continued to develop his herbarium and library. His good relationships with officials and businesses allowed him to send his students on Government expeditions, and in return, they brought back specimens for his own collection. In 1836, he was knighted for services to the University of Glasgow and botany.
In 1841, Sir William became the director of the Botanic Gardens of Kew. The gardens had gone into decline and become state-owned since the death of Sir Joseph Banks in 1820. Sir William immediately started to work on expanding the gardens, including the extension of the Pleasure Grounds and addition of the old deer park. The Palm House was completed in 1848. In the same year, a Museum of Economic Botany was opened in the Old Fruit Store, and another museum was opened in the Orangery in 1863. Additions of the herbaria and libraries of leading botanists George Bentham and William Arnold Bromfield helped to make Kew a major research centre.
We have an enormous amount to thank William and Joseph Hooker for, and are incredibly proud that they are so closely associated with Kew.  Without their dedication and foresight, Kew would not be the globally renowned organisation it is today – offering beauty and tranquillity to visitors, while also delivering first-class plant science research and conservation worldwide.

Professor Stephen Hopper, Director of the Royal Botanic Gardens, Kew, 27 July 2010.
Sir William continued with his periodicals, as well as developing his interest in ferns, with the five volume Species Filicum published between 1846-1864, Century of Ferns in 1854, British Ferns in 1861 and Garden Ferns 1862. After his death, Sir William's son, Joseph, a successful plant collector, took over as director of Kew.
This profile was written by a Biology: Changing the World volunteer.