John Lindley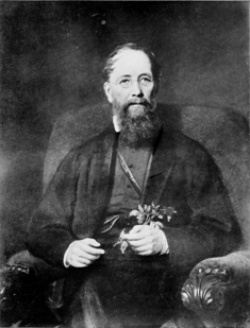 Portrait from the Makers of British botany (1913)
Born

5 February 1799

Died

1 November 1865 (age 66)
John Lindley was an English botanist with a passion for orchids and classification (taxonomy) of plants.
---
John Lindley was the son of a nursery garden owner and he spent many summers helping his father in the gardens as well as exploring the Norfolk woodlands scavenging for various plants. As blissful as this life sounds, it was actually not a very easy ride for John, his parents, and their three other children.
Unfortunately no amount of horticultural talent or knowledge could make the nursery a commercial success, and the family suffered money troubles throughout his adolescence. He would have loved to have gone to university but in the end his family could not afford it due to their debts, so this was a path that he was not able to take. However, this would not stop him from becoming one of the world's great botanists.
Instead of going to university, in 1815 Lindley became an agent for a London seed merchant; he was determined to follow his passion and put to use the years of experience he had already gained in his short life.
This job led to him receiving numerous positions of honour throughout his career. He was a talented artist and sketched many of the species that he discovered and described. Through becoming acquainted to other great botanists, he landed places working under William Hooker and Sir Joseph Banks, both of whom let him use their vast and wonderful botanical facilities to study. In the next few years he published a number of papers and was elected as a Fellow of the Linnean Society of London at only 21 years old.
In just a few short years he was elected as the Chair of Botany at University College London, which he held for many decades. Being financially stable for the first time, he was able to marry his true love with whom he had two daughters and a son. It turned out that his daughters also had a knack for art, as they both became artists themselves.
Lindley's career was extremely fulfilled. He became Secretary of the Royal Horticultural Society and we have him to thank for founding the Chelsea Flower Show in the late 1830s; an event that plant and garden lovers still fully relish in today. He gave the prestigious Royal Institution Christmas Lectures in 1833, sharing this honour with other famous and accomplished scientists such as Carl Sagan and David Attenborough.
He was eventually elected as a Fellow of the Royal Society and then went on to receive what may have been his most prized honour; he was given an honorary degree of Doctor of Philosophy from the University of Munich. So although he didn't get to go to university like he had wished, he still got to experience a little piece of it because of his hard work and amazing talent.
As if his career wasn't illustrious enough, Lindley was also known for saving the Royal Botanical Gardens at Kew, London, by forcing the issue into parliament when the gardens were extremely close to being shut down.
Lindley was known as being extremely hard working, and maybe too hard working. His health began to rapidly decline, and after travelling to the South of France in 1863, he died at home at the age of 66, leaving behind his wife and children.