Sir Bernard Katz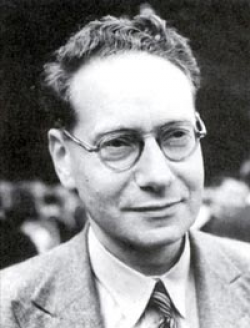 Born

26 March 1911

Died

20 April 2003 (age 92)
Sir Bernard Katz researched nerves and muscle, and in particular the physicochemical mechanism of neuromuscular transmission.
---
Katz was born in 1911, in Leipzig in Germany. He was a Russian expatriate with Jewish heritage. His father did not opt for Russian citizenship or become a naturalised German and for the first thirty years of his life, he was effectively a 'stateless alien'.
Katz graduated in Medicine from the University of Leipzig in 1934. Armed with only a Nansen Pass (an international travel document for refugees produced by the League of Nations) he emigrated to England in 1935 as a penniless refugee, having fled Hitler's Reich.
Katz recounts in his autobiography that his arrival in England was a "terrifying experience." While he was being interrogated by the Immigration Officer for having no passport, he began to fear that he would miss his train to London or get deported back to a place called Nibelheim - portrayed as a concentration camp in Wagner's opera Rheingold.
Once in London, Katz headed straight to University College London (UCL), and climbed the long staircase to Professor A V Hill's Physiology laboratory. Hill became a lifelong friend and teacher to Katz. In 1939, Katz completed his PhD in Muscle Physiology.
Katz won the Carnegie Fellowship in 1939 and went to work with John Eccles at Sydney Hospital in Australia. Katz immediately set about trying to convince Eccles about chemical transmission at the Neuromuscular junction (NMJ). Katz recalls that Eccles remained unconvinced until an incident involving an electric lawnmower. While Katz was operating the mower to cut the grass on Eccles' lawn, he accidentally cut through the electric cable and "remained in a state of incomplete tetanus," unable to extricate himself from the mower. Katz says it was at that precise moment when he "converted Eccles from electrical to chemical transmission" at synapses.
At the outbreak of the second world war, 30 year old Katz was still stateless. But this time this, and his Russian descent, proved to be distinct advantages. He was not seen as an 'enemy alien' and was granted both British and Australian citizenships.
In 1952, he was invited back to UCL by his old friend A V Hill, to become Assistant Director of Biophysics. Katz discovered how the transmitter acetylcholine was transmitted from the nerve terminals at the nerve-muscle junction. In 1970, he was awarded the Nobel Prize in Physiology or Medicine for his outstanding work, along with Ulf von Euler and Julius Axelrod. Their discoveries have increased our understanding of the mechanism for transmission between nerve cells.
This profile was written by a Biology: Changing the World volunteer.