Professor Sir Paul Nurse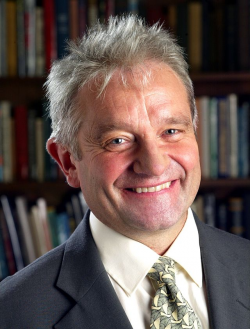 Born

25 January 1949
Professor Sir Paul Nurse Hon FSB is president of the Royal Society and a geneticist who works on what controls the division and shape of cells. In 2001 he was awarded the Nobel Prize in Physiology or Medicine for his work on the cell cycle of fission yeast.
---
Sir Paul has also held roles as professor of microbiology at the University of Oxford, chief executive of the Imperial Cancer Research Fund (now called Cancer Research UK), and president of Rockefeller University, New York. He is currently director and chief executive of the Francis Crick Institute, a £650m superlab in the heart of London's Kings Cross.
Sir Paul grew up in rural Norfolk in a household that he describes as 'neither wealthy nor academic, but comfortable and supportive of my academic aspirations'. However, recently, he discovered a dramatic and tragic family secret - that the woman who he believed to be his sister was actually his mother. His mother, actually his grandmother, had hidden the pregnancy and raised him as her son. 
Sir Paul studied Biology at Birmingham having been rejected from a number of universities for not having a foreign language qualification. He went on to complete a PhD on yeast at the University of East Anglia.
Science is tough. People's experiments are failing all the time and we have a responsibility to look after each other. I do try to do that. We need a supportive environment so it's important to be nice to each other. Also it is very important in science to disagree, to argue, but you don't do it in a way where you attack the individual: you attack their ideas."

Paul Nurse, The Biologist, December 2014
In 1976, during postdoctoral research at the University of Edinburgh, Sir Paul identified the gene cdc2 in yeast. The gene controls the progression of the cell cycle and so is important in determining how and when cells divide. Following on from this, in 1987 Sir Paul made his most important discovery. He had identified the equivalent gene in humans, CDK1.
The CDK1 gene is responsible for creating proteins that check whether the cell has divided properly. If the gene malfunctions, a cell could divide incorrectly and survives, causing cancer and other serious diseases. Understanding CDK1 may in the long term open new possibilities for cancer treatment. It is for this contribution to the understanding of how cell and potential tumour growth is controlled that Sir Paul was awarded his Nobel Prize in Physiology or Medicine in 2001 - alongside colleagues Leland Hartwell and Tim Hunt.
Sir Paul is now a key figure in UK science. As well as his role as President of the Royal Society and as director of the Crick Institute, he was recently asked by government science minister Greg Clark to conduct a review of UK research councils.
Watch BCW's interview with Sir Paul Nurse.