Elizabeth Blackburn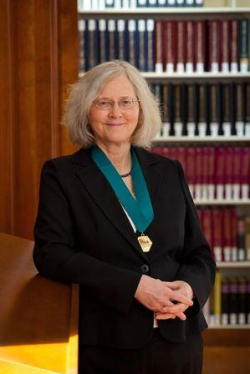 Image courtesy of the Chemical Heritage Foundation
Born

26 November 1948
In 2009 Elizabeth H. Blackburn was awarded the Nobel Prize in Physiology or Medicine along with her colleagues Carol W Greider and Jack W Szostak. They discovered that chromosomes are protected by telomeres, and the enzyme telomerase is responsible for their maintenance. They created a whole new field of research that impacted our ideas about cancer cells, stem cells, and ageing.
---
Inspired by her idol, Marie Curie, Blackburn was drawn to the science from an early age. She was born in Australia, but educated at Broadland House Girls Grammar School, England (where she allegedly plastered her bedroom walls with drawings of amino acids), before moving back to Australia where she undertook an undergraduate Biochemistry degree at the University of Melbourne.
As a Master's student in Frank Hill's research laboratory she was told, "each experiment should have the beauty and simplicity of a Mozart sonata." It was under Hill's guidance that Blackburn was introduced to an old colleague of his, Fred Sanger. The already well-travelled Blackburn would shortly move back to England as a Cambridge PhD student in Sanger's lab.
She describes her time spent sequencing the bacteriophage DNA in Sanger's lab with, "the atmosphere of being at the epicentre of molecular biology, the intensity of the scientists and the constant discussions about science. It was a world of complete immersion."
Following her PhD she fully expected to be working as a postdoctoral fellow at the University of California, San Francisco (UCSF). But meeting, falling in love with, and marrying Professor John Sedat brought her instead to Yale. This turn of events arguably put her on the track towards Nobel Prize-hood as it was at Joe Gall's lab at Yale she became truly fascinated with the DNA at the end regions of chromosomes (telomeres).
After her postdoctoral work, Blackburn faced a number of discouraging rejections before being offered a research position at UCSF. Later she became an associate professor at the University of California, Berkley, where she ran her own laboratory, this coincided with the birth of her son. By the mid-1990s Blackburn had moved back to UCSF in order to achieve a better work/family balance.
Her interest in bioethics began in 1998 when her service as President of the American Society for Cell Biology prompted her to think of the wider issues involved in scientific research. In 2002, she joined the President's Council on Bioethics. The position, however she was asked to leave in 2004 due to her support of the controversial human embryonic stem cell research.  This lead to expressions of outrage from many of her fellow scientists, and even today she retains the belief that science policy should be informed by good scientific evidence.
Prior to her 2009 Nobel Prize Elizabeth Blackburn has been the recipient of many awards, including the 2006 Albert Lasker Medical Research Award in Basic Medical Research.
This profile was written by a Biology: Changing the World volunteer.