Mary Lyon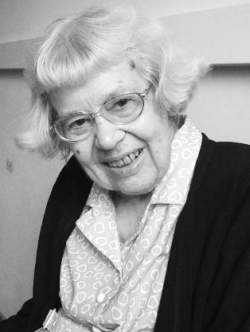 Born

15 May 1925

Died

25 December 2014 (age 89)
Many Lyon was a British scientist and one of the world's foremost geneticists whose work had a fundamental impact on human medical research. Lyon's key discovery of X chromosome inactivation in mice revolutionised our understanding of mammalian genetics, and was dubbed "lyonisation" in her honour.
---
Lyon's interest in biology was sparked at the age of ten, when she won a set of nature books in an essay competition. Lyon went on to study zoology, physiology and biochemistry at Cambridge University, at a time when women rarely attended university and were awarded only 'titular' degrees. She excelled in her studies and went on to start a PhD with Sir Ronald Fisher at Cambridge, moving to Edinburgh to complete her work as the Scottish university offered better facilities.
After her PhD, Lyon was offered the chance to work at Edinburgh's Institute of Animal Genetics. She worked with Toby Carter to study the effects of harmful radiation on mice, due to international concerns about the health fallout of wartime nuclear bombings. In 1954 Carter's team moved to the Medical Research Council Radiobiological Unit in Harwell, Oxfordshire, where they established a new genetics division of which Lyon was later to become the head. Carter and colleagues used radiation to create mouse mutants; Lyon continued working with these mutants, and her observations of a litter of mice with the mottled mutation affecting coat coloration triggered her most renowned discovery.
In 1961 Lyon proposed her major new theory of 'X chromosome inactivation'. X and Y chromosomes carry genetic code and are called sex chromosomes because they determine the gender of a person. Two X chromosomes code for the female gender, whereas a male has an XY genetic makeup. Lyon suggested that in the early female embryo, one of the X chromosomes is arbitrarily 'switched off' in each cell, and the same X inactivation is evident in all its subsequent cells - one of the earliest examples of epigenetics.
This process explains why females do not have the genes in both of their X chromosomes expressed (despite their XX genotype), which would have dangerous medical consequences. First described in mice, Lyon's theory became widely accepted and was later applied to all mammals, transforming our understanding of how cells regulate gene expression. Lyonisation, as it quickly became known, also shed light on human genetic diseases such as haemophilia and Duchenne muscular dystrophy.
The door opened to the warmth of Mary standing there, wooden cane in hand, radiating a smile, and quietly waiting to offer me a beverage. Despite her soft voice, I knew I was in the presence of a giant.

Jane Gitschier, An interview with Mary Lyon, 2010
Lyon became an advocate for the controversial use of mice in genetic research, and gained additional notoriety for her work on the mouse T-complex, a part of the genetic code that can cause male sterility. She was elected a member of the Royal Society in 1973, and continued her leading research until her retirement in 1990 and beyond, only stopping her academic exploration in 2012. Her achievements were recognised by multiple awards, including the Wolf Prize for Medicine (1997) and the Pearl Meister Greengard Prize (2006) which specifically celebrates female scientists.
Lyon passed away on Christmas Day, 2014, leaving behind her a legacy in the form of the MRC Harwell Mary Lyon Centre, a facility for mouse functional genomics. The UK Genetics Society created the Mary Lyon medal in her honour in 2014.
This profile was written by a Biology: Changing the World volunteer.