Francois Jacob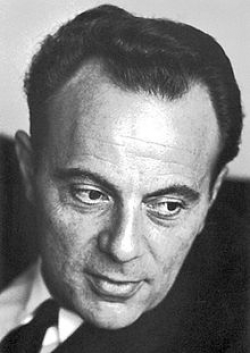 Born

17 June 1920

Died

19 April 2013 (age 92)
Intelligent, inquisitive, and suppressed. These three words describe Nobel Prize winner Francois Jacob during his childhood. Luckily, only the former two carried on into adulthood. His family life and schooling where riddled with what he described as a "draconian regime" filled with strong religious ideals.
---
With a natural passion for science, the tenacious young Francois broke free from this "cage" by enrolling into medical school so he could finally explore his curiosity and live up to his full potential. He was not even half way through his studies when he was sent to Great Britain to make his contribution to the allies during Germany's occupation of France in WWII. He barely escaped death during an air raid, and on his return to France he was awarded with the highest honour, the Cross of Liberation.
After coming home he was able to complete his studies and he finally became a qualified medical doctor. He had a strong inclination for research but ignored this to take up a place at the Cabanel Centre, where he was to meet his future wife with whom he had four children.
Although he became a physician for a short time, it seemed that he could not stay away from research for long, as his great contribution to science was with the idea that won him and Jaques Monod the Nobel Prize. DNA was a hot topic in science as the double helix model had been proposed just a few years earlier and much was beginning to be understood about how it worked.
Using newly found information and riding the wave of excitement surrounding DNA research, they discovered that DNA transcription is the driving force behind controlling enzyme levels in cells. This piece of knowledge is fundamental to all of molecular biology and medicine today, and has evolved entirely into its own sub-discipline.
Much later on in life, he was to be married a second time, finding happiness again at the ripe age of 77 with a lady called Genevieve Barrier. He was married to her until his death in 2013.
So from an unlikely upbringing, it seems that Francois Jacob had a passion and drive within himself that he couldn't ignore. By following his dream, he went on to achieve the highest honour that can be given to any scientist.