Aldo Leopold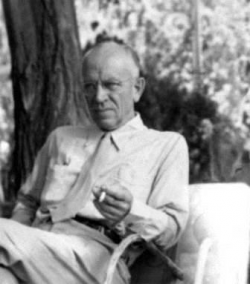 Born

11 January 1887

Died

21 April 1948 (age 61)
Aldo Leopold has been described as the most influential conservationist of the twentieth century. He is known as the father of wildlife management and of America's wilderness system.  His legacy covers sustainable agriculture, forestry, wildlife management, environmental history, restoration ecology and ethics.
---
Leopold was born in 1887 and was interested in the natural world from an early age. He observed, drew and wrote about his surroundings. .After graduating, he started work with the US Forest Service in 1909. He was a forward thinker and rejected the economic utilitarian based approach of managing the forests. He argued that economic wellbeing could not be separated from the wellbeing of the environment. He saw the land as a living organism, and his concept of a 'land ethic', incorporating soils, waters, plants, and animals, guided the rest of his work.
The outstanding scientific discovery of the twentieth century is not television, or radio, but rather the complexity of the land organism.
Through his persuasiveness and eloquence, he persuaded the American government to set aside areas of land for protection. On 3rd June 1924, three-quarters of a million acres of land in New Mexico, covering mountains, desert and rivers, was designated as the Gila Wilderness, the first place in the world to be managed as a wilderness area.
In 1933, Leopold published the first textbook on wildlife management. Two years later, he and his family conducted their own ecological experiment by buying some farm land that was in a poor condition along the Wisconsin River. He planted thousands of pine trees and restored prairie grassland. It was here that he developed most of the essays that would later be published in his book A Sand County Almanac.
Leopold died of a heart attack one week before it was confirmed that the book was to be published. His family worked on the collection of essays that formed the book and A Sand County Almanac was published a year after his death. It has sold 2 million copies, becoming one of the most respected books about the environment.
Leopold was also an early leader of the Wilderness movement. Today, the Aldo Leopold Foundation continues his work of weaving a land ethic into the fabric of society.