Gerty Cori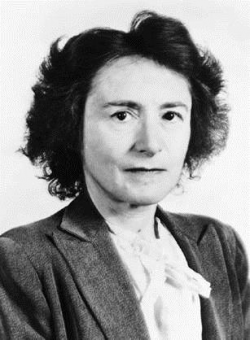 C US National Library of Medicine
Born

15 August 1896

Died

26 October 1957 (age 61)
Gerty Theresa Cori was an American biochemist that studied animal metabolisms and the conversion of glycogen into glucose. Her work earned her a Nobel Prize in 1947 when she became the third woman ever to do so.
---
Cori was born in Prague in 1896 and was the eldest of 3 daughters. She was home schooled until the age of 10, when she was enrolled in a Lyceum, a private school for girls. At this time women were discouraged from perusing a scientific career but after taking an entrance exam for University, she passed and was accepted at age 18.
Cori started a degree in Medicine at the German division of the University of Prague and graduated, receiving her doctorate in 1920. During her time at university she met her future husband Carl Ferdinand Cori, who shared her interest in laboratory based research and with whom she collaborated for most of her life.
After graduating, Cori spent two years working at a children's hospital in Vienna as a research assistant before emigrating to American with Carl. The State Institute for the Study of Malignant Diseases in New York, now Roswell Park Cancer Institute, is where both the Coris started work once in America. At this institute Gerty worked as assistant biochemist while Carl was an assistant pathologist. Here, they started researching how carbohydrates are processed in humans during digestion.
In 1931, Carl was appointed professor of pharmacology at the Washington University Medical School in St. Louis, and Gerty followed, later moving to the biochemistry department. In 1943 Gerty was promoted to associate professor of Research Biological Chemistry and Pharmacology.
Over the years, the Coris had continued to study the animal metabolism, specifically the mechanism by which glycogen, the energy store in animals, is converted to the usable sugar glucose. They discovered the enzyme phosphorylase, a catalyst that speeds up reactions, was responsible.
Cori isolated phosphorylase and other important enzymes involved in synthesis and breakdown of glycogen. In 1947, Gerty and Carl Cori were awarded a Nobel Prize in Physiology or Medicine for this pioneering research. Gerty was the first American woman to receive a Nobel Prize and the third woman overall.
After this, Gerty got promoted to Professor of Biological Chemistry at Washington University. However, the same year she received the Nobel Prize she started showing symptoms of myelofibrosis, a rare bone marrow cancer, which she fought for ten years until her death in 1957. Gerty continued to study and research until the last few months of her life.
In her last ten years, she was the recipient of many accolades; she was awarded the Midwest Award of the American Chemical Society, the Garvan medal of the American Chemical Society for women in science, the sugar research prize of the National Academy of Sciences plus a multitude of others, many shared with her husband. Also, after her death as a memorial, a crater on the Moon was named after her, 'the Cori Crater'.