Elise Andrew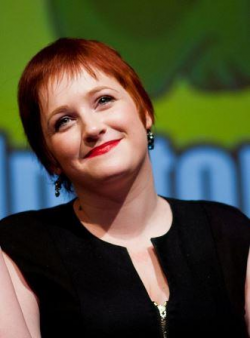 Cypyright Tyson Dziedzic
Born

Unknown
Elise Andrew is a biologist and author of the popular science blog IFLScience (IFLS). She is a great advocate for making science acceptable to everyone and is currently developing a television series based on IFLS with the Discovery Channel.
---
Andrew attended West Suffolk College in Bury St Edmunds, and went on to receive a Bachelor of Science in Biology at the University of Sheffield, focusing on animal sciences, ecology, evolution and genetics. During her studies she often found her reading material so interesting that she would frequently go to her friends to tell them about the science that intrigued her.
So strong was her passion that on the 10th March 2012, while she was still at university, she launched a Facebook page IFLScience (IFLS) to share her love of science with others. The page first focused on science-based jokes and photos, and slowly began including newsier articles, including 'This Week In Science' and articles de-bunking scientific myths. Even though Andrew didn't have any formal journalistic training, her writing attracted many readers through a mix of humour and intelligence that created an easy to read and approachable style.
Andrew is a leading figure in science communication across online social networks. She champions the importance of getting the public more science literate, and believes it is something to get excited about rather than shy from. She is determined to put in a great name for science and to explain even the toughest breakthroughs in an exciting and understandable way. In the past year the IFLS Facebook page has doubled in the number of followers from 10 million to almost 20 million. In fact, through IFLS and the corresponding website, Andrew now has a broad reach of about 50 million people every week.
People often ask me – how do you know IFLS is teaching people, that they're learning? I don't want to teach. I want to ride that wave of interest, that instant you go 'WOW! That's really incredible!

Elise Andrew, at a talk at the University of Sheffield, March 2014
She has previously worked at LabX Media Group in Canada as their social media content manager. As a scientist, Andrew shies from the limelight and prefers her work to do the talking for her. She currently lives in Ontario, Canada.