Sir Alexander Fleming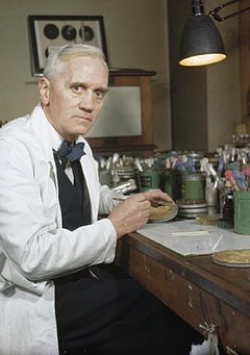 Photograph TR1468 from the collections of the Imperial War Museums
Born

6 August 1881

Died

11 March 1955 (age 73)
A Scottish biologist, pharmacologist and botanist who is best known for discovering penicillin, Fleming has had a huge impact on the world in which we live.
---
Alexander Fleming earned a two year scholarship from a comprehensive school in Scotland before moving to London. In London he enrolled at St Mary's Hospital Medical School (now Imperial College School of Medicine) and later qualified as a Bachelor of Medicine, Bachelor of Surgery (MBBS) in 1906.
As a member of the rifle club at the medical school, the captain suggested Fleming should join the research department at St Mary's. He joined as an assistant bacteriologist while he studied for a BSc degree in bacteriology.
Before his discovery of penicillin during the First World War, Fleming searched for anti-bacterial agents after witnessing the death of many soldiers from infected wounds. He claimed antiseptics were killing the patients' immunological defences more effectively than they killed the invading bacteria.
After coming back from holiday to his untidy laboratory, Fleming noticed one of his bacterial cultures was contaminated with a fungus. More importantly, the colonies surrounding the fungus had been destroyed. This fungus was Penicillium and it created a molecule he named penicillin.
When I woke up just after dawn on September 28, 1928, I certainly didn't plan to revolutionise all medicine by discovering the world's first antibiotic, or bacteria killer. But I suppose that was exactly what I did.

Alexander Fleming - 1928
Fleming investigated penicillin's positive anti-bacterial effect on many organisms. Finding the cultivation and isolation of the antibiotic agent to be quite difficult, he received help from skilled chemists in the mass production of penicillin.
He was appointed a Knight Bachelor, was awarded the Hunterian Professorship by the Royal College of Surgeons, and an asteroid in the Asteroid Belt, has also been named in his honour; 91006 Fleming.
Fleming shared the Nobel Prize in Physiology or Medicine in 1945 with Howard Florey and Ernst Boris Chain for his discovery. Penicillin has saved, and is still saving, the lives of millions of people around the world.
This page was written by a Biology: Changing the World volunteer.