Mary Anning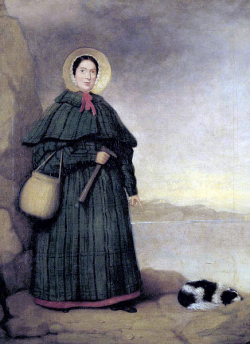 Mary Anning
Born

21 May 1799

Died

9 March 1847 (age 47)
Anning was a fossil collector and dealer in the 19th century whose discoveries helped to change the way that people thought about the world.
---
She made some of the most significant geological finds of all time and provided evidence for  developing ideas about the history of the earth. At the time there was little to challenge the biblical interpretation of the story of creation and the flood.
Anning came from a poor family in Lyme Regis in Dorset and taught herself geology and anatomy. She and her brother Joseph were the only survivors of ten children. Her father Richard, a carpenter and  cabinet maker, taught the two of them how to look for and clean fossils. When he died in 1810, when Anning was eleven, the family were left without an income. They sold the fossils that they found, from a stall on the seafront, to the visitors who came to the seaside town in the summer. This became the family business.
In 1817 the family was befriended by a well-to-do fossil collector, Lieutenant Colonel Thomas Birch. He decided to support the family and organised an auction of the specimens he had bought from them. This raised £400 which he gave to the family. The publicity helped to consolidate Anning's reputation.
the greatest fossil hunter ever known
Anning collected from the Blue Lias cliffs, braving mud flows, tides, landslides and the seas to do so. In 1811 her brother Joseph found a skull and Mary spent many months excavating what appeared to be a crocodile. This was later named Ichthyosaurus, or fish lizard. In 1823 she found the long-necked 'sea dragon', Plesiosaurus, followed by the Pterodactylus in 1828. She also discovered that the squid-like Belemnites could be ground up and the powder used for ink.
Anning only made one trip away from home during her life; a short trip to London. As a woman, and from a family that was not very wealthy, she was not able to interact with the scientific community (at this time, women could not vote or attend university). Although she was very knowledgeable about the fossils she collected, the wealthy gentlemen who bought them would publish details of the specimens without mentioning her name.
Among the scientists who owe their achievement to her were William Buckland, Henry de la Beche and William Conybeare. By time time of Anning's death, geology was established as an independent scientific discipline.