Gregory Goodwin Pincus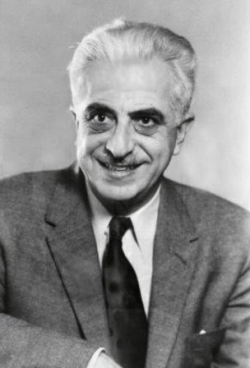 Born

9 April 1903

Died

22 August 1967 (age 64)
Gregory Pincus was an American endocrinologist and authority in mammalian reproduction. He is most famous for the invention of the oral contraceptive pill and is credited with revolutionising family planning.
---
Pincus was born at the turn of the twentieth century in New Jersey, United States. His father and two uncles were all agriculturists and Pincus himself went on to study agriculture at Cornell University. He later gained a masters and doctorate degrees in zoology from Harvard and worked in England and Berlin where he performed biological research.
On his return to the United States in 1930, Pincus worked at Harvard University as a physiologist. He had become interested in endocrinology, the study of hormones, especially those involved in reproduction.
In 1934 his ground-breaking research led to the first ever successful procedure of in vitro fertilisation (IVF), commonly called a 'test tube baby', of a rabbit. IVF involves taking the egg and sperm out of the body and fertilising the egg in a laboratory, before placing the fertilised egg back into the mother. This was the first time that such an achievement was successful. Since then, the IVF procedure has been developed successfully for use in humans, and is now widely used by many infertile couples.
At the time, however, the nature of Pincus' work was so novel that he was vilified in society as a 'mad scientist' interfering with nature, and even lost his post as professor due to the controversy of his work. But this did not stop him and he continued with his research.
In 1944 he co-founded the Worcester Foundation for Experimental Biology, which became an important centre for the study of steroid hormones and mammalian reproduction. At this time in America, unwanted pregnancies created huge ethical and health problems. Contraception for women was not allowed, and it was illegal and highly frowned upon for women to have abortions. Many women who fell pregnant but could not have the child would turn to unlicensed doctors or have home procedures done, some of which damaged their reproductive organs so much that the procedures became life-threatening.
Pincus was recruited in the 1950s by Margaret Sanger, a birth control activist, to work on the problem of creating a 'magic pill' to control pregnancy. At that time, Carl Djerassi was leading a team that had synthesized norethisterone, and he sent the substance to a number of endocrinologists including Pincus.
Pincus found that it worked on animals and a further small-scale study in 1954 by John Rock at Harvard found that it worked on humans as well. Pincus organised a much larger-scale research trial in 1956.
This research was successful and led to the production if the first oral contraceptive, Enovid, which was approved in the United States by the Food and Drug Administration in 1960. It was available in Britain two years later. Pincus also developed the 'morning-after' pill, which prevents the egg from implantating after ovulation.
As long as I can remember, I knew I was going to be a scientist.

Gregory Pincus, in a New York Times obituary
Pincus was a recipient of many awards, including the Lasker Award in 1960, for 'major advances' in the understanding of human reproductive hormones and contraception, and the American Medical Association's Scientific Achievement Award in 1967. Pincus died of bone marrow cancer in 1967, thought to be caused by years of exposure to solvents and lab chemicals.