George Washington Carver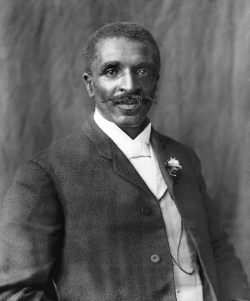 Born

5 January 1864

Died

5 January 1943 (age 78)
George Washington Carver is a well-known African-American scientist and inventor. He is famous of important agricultural discoveries and inventions, along with his research on peanuts and sweet potatoes.
---
Carver was born on a farm in Missouri into slavery, his mother, Mary, was owned by Moses and Susan Carver, and his father was a slave on a neighbouring farm, he died before George was born. Carver and his mother were kidnapped when George Carver was only a few months old. These outlaws roamed the streets during the civil war and hoped to sell George and his mother to slave farms. George was rescued by a neighbour, but his mother was not. Along with his older brother, Jim, George was raised by Moses and Susan Carver.
George Carver was an ill child so Susan Carver taught George how to read, write and complete basic domestic chores. Working with Susan developed George's passion for plants.
George attended a school for African Americans when he was 11 years old and he boarded with Andrew and Mariah Watkins- a childless black couple. He had always identified himself as Carver's George, but a teacher corrected him, and from that day he called himself George Carver.
He travelled to Kansas with friends during the 1870's, and over the next ten years, he moved from town to town to work and go to school, undertaking domestic chores to fund his schooling and accommodation. In Iowa, Carver me John and Helen Milholland who encouraged Carver to attend Simpson College to study piano and art.
A year later, Carver attended the State Agricultural College in Iowa and began to study agriculture, graduating in 1894 with a bachelor's degree.
In 1896, Carver began to work for Booker T. Washington in Alabama at the Tuskegee Institute, teaching students and undertaking agricultural research. Carver helped to teach poor southern farmers to change their farming practices and eat more healthily. He suggested planting peanuts to help develop the soil after years of growing cotton and encouraged the harvesting of peanuts as an inexpensive source of protein. Carver developed practical uses for peanuts and sweet potatoes, created and tested many recipes in his laboratory.
His peanut research lead him to testify at the national grower's association's congressional tariff hearings in 1921, and he was known in the media as the 'peanut man'.
Education is the key to unlock the golden door of freedom.

George Washington Carver
Carver invented paints, plastics, dyes and even a type of gasoline. Carver achieved international fame, and it was said that President Theodore Roosevelt admired his work, and went to Carver for agricultural advice.
He was made a member of the British Royal Society of Arts in 1916, which was a rarity for an American. Carver is also said to have advised Mahatma Ghandi on agricultural topics.
During his research he cultivated relationship with dozens of white people, and discussed racial injustice, whilst serving as a mentor to black students.