Dr Gathorne Robert Girdlestone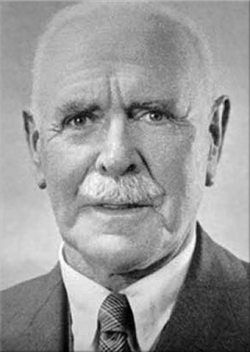 Born

8 October 1881

Died

30 December 1950 (age 69)
Dr Gathorne Robert Girdleston was a leading surgeon in his field of orthopaedics. He was the renowned founder of the Nuffield Orthopaedic Centre and the first Nuffield Professor of Orthopaedic surgery at the University of Oxford. Girdlestone worked tirelessly to create an exemplary model of how orthopaedic care could be delivered to those in need.
---
Born in Oxford in 1881, Girdlestone was educated at Charterhouse, at New College, Oxford and became a qualified doctor during his time as St. Thomas' Hospital. In 1910 he joined a surgical practice near Oswestry, Shropshire. It was here that he met Robert Jones, a mentor, close friend and inspiration to his work. His relationship with Robert taught him that orthopaedics was much more then a branch of surgery and as much about improving quality of life. His time spent with Robert showed an orthopaedic clinic could be designed to not only treat visiting patients but work to actively seek those needing treatment. Bringing orthopaedic care to hard to reach individuals and help detect crippling conditions before they manifested as a permanent deformity.
At the outbreak of the first World War Girdlestone joined the Royal Army Medical Corp (RAMC), he had been prevented from serving overseas because of the effects of a traumatic chest injury, a result of a previous motorcycle accident. Under Robert Jone's advice to the War office to set up local specialist orthopaedic units, Girdlestone was put in charge of 400 beds at the former Wingfield Convalescent Home, working to treat injured service men.
The scheme proved a success in managing orthopaedic patients and it wasn't long until Robert Jones and Girdlestone began the process of designing and establishing regional orthopaedic services. In 1920 they organised the Council for the Care of Cripples and by 1925 Girdelstone's experience within the three councils of Oxfordshire, Berkshire and Buckinghamshire was such he wrote and published information on how a regional scheme should be devised, to ensure orthopaedic services were available to everybody in the region.
Lord Nuffield became close friends with Girdlestone in 1930 and with the help of his funds helped to rebuild and open the Winged-Morris Hospital to patients in 1933, it would be renamed the Nuffield Orthopaedic Centre in 1950. Their close relationship grew and saw more money donated to similar projects abroad and when Lord Nuffield endowed Clinical Chairs at Oxford University Girdlestone became the first Nuffield Professor of Orthopaedic Surgery.
Not only was Girdlestone an excellent organiser but a surgeon of great skill. He had always been interested in operative technique and had en eye for detail. His operations for osteoarthritis of the hip and claw toes were particularly valuable contributions and in 1943 Girdlestone designed a revolutionary orthopaedic procedure intended to rescue hip joints. Labelled a Femoral Head Osteotomy, the head of the femur is removed allowing for fibrous tissue to grow and replace the missing bone, creating a false, pseudo joint.
Girdlestone died in 1950, remembered for his warm character and as a pioneer of orthopaedic care.