Sir David Attenborough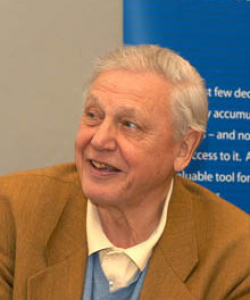 Born

8 May 1926
Sir David Attenborough is considered the father of natural history television.
---
Sir David is known for his unmistakable voice, which has formed the soundtrack to many childhoods and programmes. Attenborough was initially discouraged from appearing on screen because his manager though his teeth were too large.
Sir David was born in London in 1926, and is the younger brother of the late actor and director, Lord Richard Attenborough. Sir David created a 'Museum' of his own featuring bird eggs, old stamps and fossils. His father, who worked at a University, introduced him to young scientist Jacquetta Hawkes. She was very impressed by his 'Museum', and she sent him a box full of fossils, and exotic specimens.
Sir David's love of the natural world prevailed, and he went on to gain a degree in Natural Sciences from Cambridge. After graduating in 1947, he began his two years National Service in the Royal Navy.
He joined the BBC in 1952, and in 1954 he began his famous Zoo Quest series. During his early years at the BBC, he presented political broadcasts, archaeological quizzes and short stories, along with gardening and religious programmes.
Sir David became the controller of BBC2 a year after the channel launched, and was responsible for bringing colour television to the nation. In 1969 he was appointed Director of Programmes, but resigned in 1973 to return to programme making.
Sir David firstly created Eastwards with Attenborough, a natural history series set in South East Asia, followed by the 'Tribal Eye', a programme examining tribal art. Following this, he wrote and presented all 13 parts of Life on Earth in 1979, which was the most ambitious series ever produced by the BBC Natural History Unit.  Life on Earth then became a trilogy with 'The Living Planet' in 1984, and 'The Trials of Life' in 1990.
In 1985 his services to television were recognised, and he was presented with a knighthood. Sir David has gone on to produce numerous natural history series, including The Private Life of Plants in 1995, The Life of Birds in 1998, The Life of Mammals in 2002, and Life in the Undergrowth in 2005. He has also narrated over 300 programmes.
It seems to me that the natural world is the greatest source of excitement; the greatest source of visual beauty; the greatest source of intellectual interest. It is the greatest source of so much in life that makes life worth living.
David Attenborough.
Sir David writes all his own scripts and even won a major literary prize in Britain for 'The Life of Birds' before the series was even screened.
Long before environmental issues were making daily headlines, Sir David was an eager environmentalist, both on and off screen. He is renowned for being outspoken about issues such as human overpopulation and global warming. He has supported organisations such as WWF in their fight to protect endangered species and campaign for the protection of wildlife.