Beatrix Potter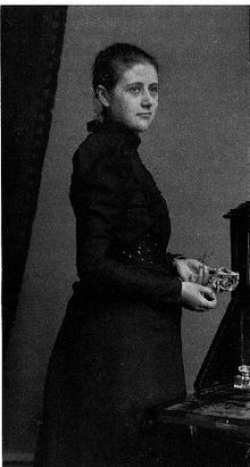 Born

28 July 1866

Died

22 December 1943 (age 77)
Beatrix Potter was famous for her characters including Peter Rabbit and Squirrel Nutkin but she was also a mycologist and scientific artist, who helped to protect and conserve the Lake District countryside.
---
Potter was born in London to a large wealthy family. As was often the case for girls of her class, she did not go to school but instead was taught by a governess. It was a lonely life and she did not meet many other people.
As a child, she kept a number of pets including dogs, rabbits, mice, snakes, lizards and a bat. She loved to study them and made lots of drawings. Every summer the family spent three months on holiday in Scotland and she would always take along one of her rabbits or mice. She spent the time away from London observing the flowers and animals around her.
When she was 16, the family took their first holiday in the Lake District, after their favourite house in Scotland was unavailable. Potter fell in love with the area. The local vicar, Hardwicke Rawnsley, co-founded the National Trust in 1895. Rawnsley had strong views about caring for the environment and this strongly influenced Potter.
Rawnsley encouraged her to draw and to publish her first book. The Tale of Peter Rabbit, was published in 1902. As Potter published more books, she used the income from them to buy farmland in the Lake District. The first farm she bought was Hill Top Farm in Sawrey, which became background material for the illustrations in her books. She built an extension so that the farm manager could continue to live there with his family and run the farm.
Her books, her art, her Herdwick sheep and her indomitable spirit are all part of her enormous legacy.
During Potter's lifetime she bought 15 farms covering 4,000 acres and she took an active role in looking after them. She said she was happiest when she was with her farm animals. She understood the need to preserve rural culture as well as beautiful scenery and she introduced native Herdwick sheep, a threatened breed that were suited to life on the Fells. She won prizes for breeding them and in 1943 was the first woman to be elected president of the Herdwick Sheep Breeders Association.
Potter also developed her scientific knowledge, including taxonomy and the names of different types of fungi. She did many watercolours and drawings of fungi, mosses and fossils which she donated to the Armitt Library in Ambleside in 1934. Her drawings are so accurate that they are still used today. She developed theories about the reproduction of fungi but as a woman, was not allowed to present her paper On the germination of the spores of Agaricineae. Instead, this had to presented by a man on 1st April 1897. Scientists today acknowledge her contribution to mycololgical research.