Augustine Henry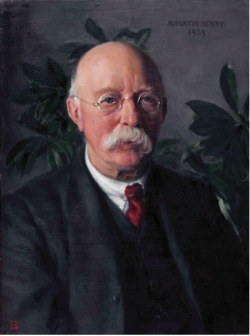 Augustine Henry
Born

2 July 1857

Died

23 March 1930 (age 72)
Augustine Henry made the wonders of Chinese flora known to the world, gave his name to many plant species and is known as the father of commercial forestry in Ireland.
---
He had originally trained as a doctor and had also studied Chinese. In 1881, he was working as a customs officer in China. Customs officials looked on plants as raw materials and because of Henry's medical training he was asked to collect specimens in his spare time. This became his passion.
Henry was interested in all flora and pinpointed the locations of many plants we consider as archetypally Chinese. He employed Chinese helpers, an innovative approach at the time, and through them learnt the names of the plants and their uses in folk medicine.
During Henry's 20 years in China, he survived malaria, political unrest and an encounter with head hunters in Taiwan. After his wife died from TB in the 1890s, he devoted all his time to surveying local flora.
He realised envoronmental conditions in China meant many plants would be hardy enough to survive in Britain and he became interested in importing ornamental plants back to Britain. Many popular garden plants now bear his name, including clematis henryi and the blue-flowered rhododendron augustinii.
Happily so many plants bear his name that, while trees and shrubs are cultivated, his memory will remain in every garden and arboretum for long years to come
In total Henry collected 158,000 specimens for the Royal Botanic Gardens at Kew and was encouraged by Joseph Hooker. He and his team proved that tea was a Chinese native plant, discovering it 200 miles away from plantations. During this period, what the tree nurserymen wanted the most was the handkerchief tree, Davidia involucrate, and Henry was the only Westerner who knew the location of the original tree. E H Wilson is credited with bringing the handkerchief tree and kiwi fruit (Chinese gooseberry) to Britain but it was Henry who brought them to his attention and offered encouragement.
Henry became interested in forestry and on his return to Britain set up a school of forestry in Oxford. In 1913, he was appointed as the Chair of Forestry at the College of Science in Dublin. Here, he was instrumental in setting up the Irish forestry industry and helped to develop the National Forestry Service, as he understood the trees that would suit Irish conditions. He had gathered together a private collection of 10,000 tree specimens, which now form the Augustine Henry Forestry Herbarium in the National Botanic Gardens at Glasnevin in Dublin. While a reader in Forestry at Cambridge, he and H J Elwes published the seven volume Trees of Great Britain and Ireland.