Antonie van Leeuwenhoek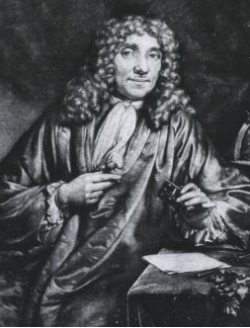 Born

24 October 1632

Died

26 August 1723 (age 90)
Antonie van Leeuwenhoek was a Dutch textile merchant who became a pioneer of microbiology.
---
Van Leeuwenhoek started an apprenticeship with a textile merchant in 1648, and aged 20, he returned to his home town of Delft and set himself up as a linen-draper. He was very successful as a linen-draper and was appointed chamberlain to the sheriffs of Delft in 160, and became a surveyor nine years later.
In 1676 he served as the trustee of state of the painter Jan Vermeer. Around 1668, van Leeuwenhoek learned to grind lenses and started to create simple microscopes and observe water and objects using his creations. It is thought that he was inspired by Robert Hooke's illustrated book Micrographia which contained exquisite drawings of Hookes own observations with the microscope and was very popular in that era.
Van Leeuwenhoek was appointed a member of the Royal Society in 1680 after recording observations of bee mouthparts and stings, a human louse and fungus to the Royal Society.
In 1676, Antonie van Leeuwenhoek began to observe water in great detail and was surprised to see an abundance of tiny organisms in the water- these became the first organisms observed by man. He recorded these findings and sent them to the Royal Society, causing widespread doubt and discussion. Later on, Robert Hooke repeated the experiment and confirmed the discoveries.
Whenever I found out anything remarkable, I have thought it my duty to put down my discovery on paper, so that all ingenious people might be informed thereof.
Van Leeuwenhoek also researched plant anatomy and animal reproduction, discovered blood cells and microscopic nematodes and studied the structure of wood crystals. He made more than 500 microscopes with which to view specific small objects. His methods of microscopy remained a secret and continued to work to until he passed away, aged 90.
Leeuwenhoek contributed to the Philosophical Transactions journal 375 times, and contributed to the Memoires of the Paris Academy of Sciences 27 times. Two collections of his work appeared during his life, one in Dutch and another in Latin.