Dame Anne McLaren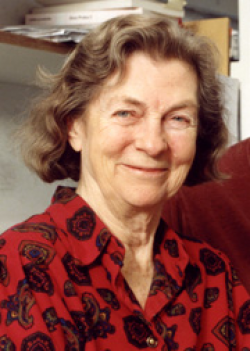 Born

26 April 1927

Died

7 July 2007 (age 80)
Anne McLaren was a geneticist who pioneered advances in mammalian genetics and embryology. Her work contributed to our understanding of reproductive biology and paved the way for the development of IVF.
---
During her first degree at Oxford, McLaren studied zoology and focused on the genetics of rabbits. After graduating, she researched the effects of super ovulation on fertility in mice. She worked with John Biggers to produce the first litter of mice that were grown from eggs in tissue culture and transferred to a surrogate mother.
She spent 15 years at the then Institute of Animal Genetics in Edinburgh, now the Roslin Institute, where she continued her research on reproduction, growth and genetics in mice. This work paved the way for IVF and the birth of the world's first 'test tube baby' in 1978.
McLaren was Director of the Medical Research Council's Mammalian Development Unit in London from 1974-1992, where she worked on reproductive immunology, contraception and chimeras. She also encouraged discussion on the ethics and legal implications of genetics research, believing that scientists needed to engage the public in order to gain their trust.
An exceptional scientist, Anne McLaren made fundamental advances in genetics which paved the way for the development of in vitro fertilisation.

Royal Society, Most influential British women in history of science.
She was made a Fellow of the Royal Society in 1975. She spent five years as its Foreign Secretary, the first woman in 331 years to be appointed as an officer of the Society, and she was also its Vice President.
She was one of the co-founders of the Frozen Ark, which stores genetic material from endangered animals, for both studying and potential cloning applications.She was also president of the British Association for the Advancement of Science, now known as the British Science Association.
After her retirement in 1992, McLaren was a principal researcher at the Wellcome Trust and Cancer Research UK Institute, now known as the Gurdon Institute, where she continued research on stem cells until 2007, the year that she died in a car accident.